2020 Hyundai Kona review from our Dealership in Brandon
We offer you a review of the new 2020 Hyundai Kona from our dealerhip in Brandon
The Korean manufacturer combines the present and the future, by offering its models with all possible engines, in order to meet customer expectations.
Released in 2017 with gasoline and diesel engines, the new Kona, an urban SUV, returned last year with a 100% electric version. All that remained was to propose a hybrid variant. It's done with this standard non-rechargeable version, which borrows its 1.6-litre, 105-hp engine from its predecessor Ioniq. This four-cylinder engine, backed by a 6-speed dual-clutch gearbox, is backed by a 32 kW (43 bhp) permanent magnet synchronous electric motor. Cumulative power stands at 141 hp with a torque of 265 Nm.
Hyundai Kona connected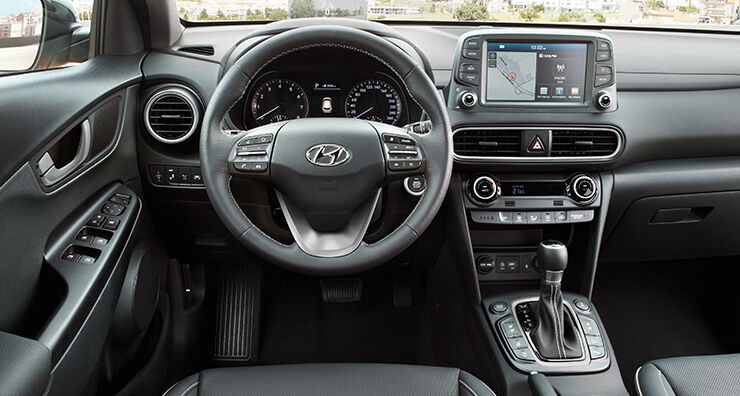 Inside, the Kona Hybrid takes up the presentation of the thermal versions, with some specificities. The meters and aerators are surrounded by coloured rings, brightening up the whole. The 10.25-inch touch screen hosts a new multimedia system, integrating the Bluelink application that offers many connected services.
From his smartphone, the driver can follow and manage his car remotely: geolocation, route programming, safety diagnostics, vehicle range, etc. The Korean, with its head-up display and state-of-the-art infotainment, also has the latest active safety systems and driving aids. Such as the eco-driving assistant that optimises consumption or the energy management device that regulates the battery charge according to the route recorded on the GPS.
The Asian SUV is well equipped as standard (Intuitive finish), with, among other things, the multimedia system with touch screen, rearview camera, automatic climate control, lane assist, cruise control, electrically folding mirrors, Apple CarPlay and Android Auto compatibility, or LED daytime running lights.
Come at our dealership in Brandon and try out our Hyundai models for sale.
Hyundai Kona for sale at our Dealership in Brandon
Do you want try out this new model ? Contact us through our contact form below.